Home Improvement Contractor Tips
July 28, 2014 - Builders
Never pay the full price up front ? Establish a payment schedule and adhere to it. Withhold final payment until the entire project is completed to your satisfaction and all required inspections and certificates of occupancy are finalized.

Get everything in writing ? State law requires a contractor to provide a written contract for home improvement work. The contract should include a time line for work to be completed, a payment schedule and specifics about the project ? such as types or brands of materials. On larger projects, architect or engineer plans should specify virtually every detail. Remember any verbal changes to the project must be added to the written contract. The contractor is only bound by what is in the contract. Keep copies for your records.

Know where your payments are going ? Contractors are required to deposit progress payments in an escrow account. The payments are to be used solely for your project, any withdrawal must bear a ?reasonable relationship? to the work completed. The contractor can otherwise obtain bond insurance to protect your money. Know which option your contrac- tor will use.

Never do business with a contractor who is unwilling to abide by any of these conditions. Even if the contractor seems reputable, it simply is not worth the risk.

Check the Attorney General?s web site www.nyknowyourcontractor.com for a listing of contractors with judgments or substantiated complaints against them. (Source - ag.ny.gov)

(Sign up for your FREE monthly e-issue of the LifeandHomes Magazine. There is No-cost, No-obligation. Each monthly issue features informational articles, local real estate listings and our exclusive "Ask the Expert" business directory where you can find local resources to answer your how-to questions. Just Click on the FREE Magazine Tab at the top of this page)
Take Your Home from Cookie Cutter to Custom
December 02, 2013 - Builders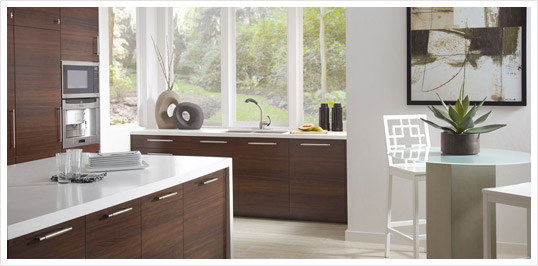 Five projects to take your home from cookie cutter to custom

(ARA) - A new home: It's your chance to personalize your living space with details that suit your taste and personality. Or, so you think. Many builders only allow you to choose colors; and offer limited options beyond their builders' grade materials. Or, if you've purchased a previously owned home, it too is most likely equipped with many basic options.

Luckily, it's easy to bust out of builder basics and add a few easy and inexpensive updates to make your cookie-cutter home stand out from the rest. And what better place to start than the heart of your home - the kitchen?

"A minor kitchen remodel is really one of the easiest ways you can make the most of your home - while also giving it your own personal style," says Danny Lipford, renowned home improvement expert and host of the nationally syndicated TV show, Today's Homeowner with Danny Lipford. "Plus, according to Remodeling magazine, it's one of the top five projects that will recoup your investment when it comes time to sell."

Not sure where to start? Lipford recommends these five projects:

Cool countertops. If your kitchen is like most, you probably have laminate countertops, since they are available in a variety of colors and patterns and are relatively inexpensive ($10 - $30 per square foot). However, they lack style and scratch and buckle easily. To give your kitchen a high-end look, consider updating your countertops with a more resistant surface, such as solid surface, a molded resin that is stain-resistant and mimics the look of concrete ($35 - 80 per square foot); marble, which in addition to its natural beauty is heat-resistant ($40 - $100 per square foot); or engineered stone, which is a mix of quartz and resins to create an extremely durable and fashionable surface ($45 -$90 per square foot).

Fabulous faucets. Does your faucet have a pullout spout with a beautiful finish that coordinates with the rest of your decor? If not, it's time for an upgrade. For less than $200, you can easily swap your no-frills faucet for one that adds functionality and fashion. Moen offers a variety of stylish high-arc pullout kitchen faucets with new innovative finishes, such as the Neva pullout faucet. Available at Lowe's, Neva features Moen's two newest finishes - Soft Grip and Spot Resist. Soft Grip is a stylish, black finish that is soft to the touch for a comfortable and sturdy feel in your hand - yet is durable in design for everyday use; while Spot Resist Stainless does just what it says - resist fingerprints and water spots - virtually eliminating the need for daily cleaning while maintaining a beautiful, brilliant finish.

Luxurious lighting. Fluorescent lighting in the kitchen is a staple for many builders since it's functional and inexpensive. However, it's not very aesthetically pleasing. Luckily, replacing fluorescent lighting is a simple project that will instantly make a style statement in your kitchen. Try one of these options: Track lighting, which is a fixture that sits close to the ceiling, but features multiple decorative lamps in a row; pendant lamps, which extend down from the ceiling like a chandelier; or mini pendant lamps, which offer a smaller version of a pendant and are available in a variety of styles and designs; are all ideal and easy-to-install options.

Wonderful walls. Are your walls still white or beige, plain slabs? Adding color and texture is an easy way to make a dramatic difference. Painting is the simplest tactic - and by using a high-quality paint, in a semi-gloss or eggshell finish, you can additionally make your walls easier to clean. However, don't stop there. Adding textures with updates, such as wainscoting, crown molding or even a tile backsplash are easy enough for a DIYer - and can be cost effective as well.

Fabulous floors. As the foundation of the room, you want your kitchen floor to sweep you off your feet - not send you packing. So, if yours is more "blah" than "beautiful," it's time for an update. Luckily, there are many choices available - from high-end choices, such as hardwood or natural stone; to more affordable options, such as ceramic tile and laminate. And, with the wide array of colors, designs and textures available with each, you can create a dramatic update that fits your budget and your unique design style.

With a few simple updates the only thing cookie-cutter about your kitchen is what you're baking. For more information about Moen products, visit www.moen.com.
Radiant Floor Heat Yields Energy Savings
October 11, 2013 - Builders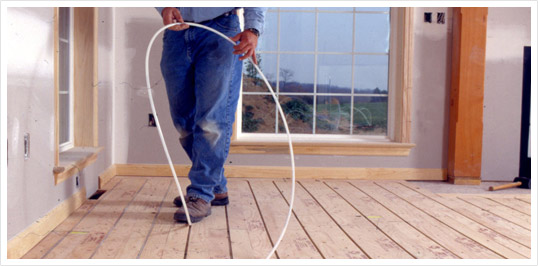 (ARA) - Some savvy homeowners are having their cake and eating it too when it comes to energy-efficient home heating. Imagine cutting your heating bills, while boosting your home's comfort. Sound too good to be true? Not for the thousands of homeowners who are using radiant floor heating, one of the oldest and most efficient means of heating a home.

The technology, dating back to the ancient Romans, uses warm water to heat the floor, instead of a furnace to heat the air. Modern radiant systems pump warm water through an in-floor network of PEX tubing (crosslinked polyethylene), which, in essence, turns a home's entire floor into a massive whole-room radiator.

Many families actually feel warmer at a lower thermostat setting with radiant floor heating than at a higher temperature required with conventional forced-air heating systems. Studies conducted by the American Society of Heating, Refrigerating and Air-Conditioning Engineers (ASHRAE) indicate that people with radiant heating systems can be comfortable at temperatures 6 to 8 degrees lower than with forced-air systems. The lower thermostat setting means using less energy and saving more money.

Feel warmer at a lower temperature

Picture a beautiful sunny day. It's 65 degrees outdoors, and you are standing under a large tree. You may feel a bit chilly if there's a breeze; but as soon as you step into the sunlight, you're comfortable again. The air temperature is roughly the same in both sun and shade, but you feel OK because the sun's radiant heat waves warm you directly.

The same concept applies to a home with radiant floor heating. As the invisible waves of thermal radiation rise from the floor, they warm you and all the surrounding furnishings, which radiate that captured heat.

Contrast that with what happens in a conventional forced-air heating system, the kind found in most American homes. Hot air blows out of the registers and rises to the top of the room where it quickly sheds heat and then drops back down as it cools.

In a radiant home, all that warmth stays at the floor level where the people and, most importantly, their feet live. And if your feet are warm and comfortable, chances are, so are you.

"Because radiant heating warms people and objects directly - as opposed to the surrounding air - residents are more comfortable, while often using less energy," explains Mark Hudoba, senior product manager, Residential Heating and Cooling, at Uponor North America, a manufacturer of PEX-based radiant heating systems. "Radiant systems tend to yield consistent temperatures throughout the space. In homes heated with forced air, the temperatures can vary by more than 15 degrees between floor and ceiling."

Moreover, because the distribution of heat is more evenly circulated, there is less need to "overheat" a home in order to compensate for spaces that seem too cool because of drafts or poor insulation.

New and existing homes

A radiant heating system can be installed during new-home construction or added to an existing home. Even if you choose not to opt for radiant heat throughout your new home, the builder can still install the PEX tubing in the basement floor or - if you don't have a basement - in the home's concrete slab. Radiant technology is also perfect for heating a single bathroom or a kitchen.

Other benefits of radiant heating include:

* Healthy atmosphere: Since a radiant system needs no fans or blowers to move its heat, family members with allergies are not subjected to the circulation of dust, mold, bacteria, viruses and pet dander throughout the home.

* Quiet operation: No fans and blowers also means no noise.

* Interior design options: Radiant heating allows you to place furniture wherever you want with no concern about blocking air vents.

* Fuel flexibility: Radiant floor heating systems can accommodate a variety of energy sources: from the conventional (gas-, oil- or wood-fired boilers) to the cutting-edge (solar thermal systems and geothermal systems) - or even a combination of both.

Ask anyone who's had the pleasure: Once you've experienced the joys of radiant heating, you'll never want to go back to a conventional system. For more information, visit www.uponor-usa.com.

Custom Home Builder - How to Make the Right Choice
January 18, 2013 - Builders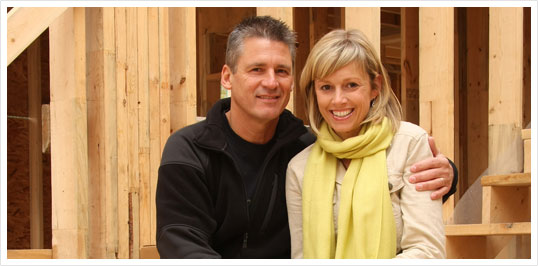 As a consumer who has decided to build their own modern and stylish home, you must be sure to choose the right luxury home builder. There are many questions that you should ask to ensure that you will receive the quality and precision that you desire as a homeowner. Never allow yourself to be rushed into any decisions regarding the house you hope to build. This is a key problem that affects many consumers when building their luxury homes. Keep in mind that this house will be your escape from the world - the place you enjoy both by yourself and with your friends and family. It should be exactly as you picture it. The time spent in the early stages of planning with the guidance of a developer is crucial to the end result.
When choosing a company or an individual, bear in mind that you and your opinion are what matters the most when making decisions about your house. Your developer is there to guide you and advise you in all aspects of turning your dream home into a reality, and to advise if the house you envision is possible in terms of physically building it, as well as budget and time wise. You must rely on their expertise and knowledge to ensure that the luxury home you build is safe and secure, meets all of your expectations and is possible within your budget and time constraints. The two of you must work alongside one another in order to make the right choices together.
The partnership between a builder and the consumer is much deeper than many would ever suspect. Your goal as a consumer is to have the dwelling you picture as the perfect place to live in for the rest of your life. Your developer's goal is to ensure that you have just that, while taking into consideration your budget, your safety, and the future use of your residence. So, for this partnership to work for both parties, you both need to work toward the one same goal - producing your dream house.
A luxury residential developer is a key part of making your future home the perfect place you have always dreamed of. Many builders are also capable of not only of building your new place of residence, but of designing it as well. This is a huge benefit to those consumers who have no experience in designing a home on their own, as well as benefiting those consumers who have the ideas but not the knowledge to put them on paper. Choosing the right builders for the job is very important and worth the extra time and effort.
About the author: Landmark Homes - Luxury Home Builder is a growing New Home Franchise throughout New Zealand. Currently there are 8 established Franchises. Each area has a display home to show the quality and exciting house designs Landmark has to offer.
Landmark Franchisees are passionate about the homes they build and work very hard to make the building experience a great one. Flexibility of design is one of Landmarks special differences. We encourage our homeowners to make the design theirs by personalising their house plans. After more than 30 years of building fabulous liveable homes, Landmark Homes has earned a reputation for being one of the best and not just in terms of value for money, quality, service, design or workmanship alone, but for all of these things combined.
http://EzineArticles.com/?expert=Paul_C_Clarke
http://EzineArticles.com/?Luxury-Home-Builder---How-to-Make-the-Right-Choice&id=3131885
There are many questions that you should ask to ensure that you will receive the quality and precision that you desire as a homeowner.

Hiring a Contractor
August 03, 2012 - Builders
Making the Right Choice
If you have decided to remodel your home or build one from the ground up, hiring a contractor is the best way to go about it correctly. Now comes the task of finding the right one for your job. If you're like many others, this can be an overwhelming process, but take heart. This article was written to assist you in finding out what you need to know before choosing the right contractor.
Obtain Quotes
It is standard practice to obtain quotes from at least three different contractors prior to making a decision. Ask to see their portfolios, including examples of projects they've been a part of. That way, if you see something similar to what you're planning to do, you'll know they have first hand experience in that specific craft. It's also an excellent way to gather more ideas.
Check References
Ask for and actually call on references given to you by your prospects. This can provide you a wealth of information on the professionals you are potentially going to be dealing with. Check them out on online forums, and research them through the Better Business Bureau and your local Homebuilders' Association.
Bonded and Insured
Regardless of the extent of the projects you are hiring the professional to complete, you are well advised to choose only from those who are bonded and insured. This protects you from financial and legal responsibility if any of the workers become injured while on your property, as well as protecting you from monetary loss if the workers inadvertently damage your property during the course of the work.
Equally important is ensuring that the professional you hire is trained, licensed and certified in the specific skill or trade relative to your project. This is for the safety of your family as well as for that of the worker, particularly in regard to electric or plumbing work.
Other Considerations
When you finally hire a contractor for your job, it is best to include in your contractual agreement how payment will be handled, and on what date the work will be completed. Consider negotiating a reward for work completed early, as well as compensation for you if the job surpasses the end date unfinished. Always obtain everything in writing and be specific in your expectations of each other. This prevents miscommunications that can prove to quickly sour the deal.
By considering these tips and words of advice, you can be confident in the decision you make when hiring a contractor.
Article by: BMA Editorial Team 3. About the Author: A Philadelphia contractor is experienced and has an outstanding record. He is not only an expert in his field but will carry out his work with utmost professionalism. To know more, visit Local Yodle (Source: bestmanagementarticles.com)
Practical advice on hiring a qualified contractor.

New Construction - The American Dream?
January 03, 2012 - Builders
Buying a new home is supposed to be the American Dream. Unfortunately, for many buyers of newly constructed homes it becomes the American Nightmare. Hiring a qualified third party home inspector can increase you chance of a hassle free home.
One only has to visit sites like Homeowners Against Deficient Dwellings (HADD)- www.hadd.com or Homeowners for Better Buildings (HOBB) - www.hobb.org to see how widespread shoddy construction is in the industry.
No area of the country is free from shoddy construction.
In my job as a Professional Home Inspector I talk to hundreds of people each year about new home construction. It still amazes me that many believe the city inspector will find every item wrong with a home. Nothing could be further from the truth!
A city inspector inspects for code violations. The building codes are the MINIMUM standards that a home should be built to. City code inspectors only inspect for safety and health issues as they relate to building. City inspectors do not inspect for the quality of workmanship! City building inspectors also have no liability. If your home falls down and hurts you the day after you move in, you can not go back and sue the building inspector because he missed code violations.
In Houston, the area I inspect in, the city building inspectors spend about 10 to 30 minutes in a home inspecting it. At the end of their "Inspection", they will then place a green or orange 3x5 sticker at the front of the home. The Green sticker says you passed, the orange or red sticker says the home failed.
There is no way that a city building inspector can note all the discrepancies on a home on a 3x5 sticker!
The new trend is for builders to advertise that their homes have been inspected by a "Third Party Inspection Company." This is like listening to a used car salesman say he had his mechanic check your used car out before you bought it.
If the company the builder hires becomes a nuisance by continuing to find problems, then a new company will be found who can inspect the homes the way the builder likes.
Wise and prudent home buyers will research their builder before deciding on one to go with. They will also start doing their research on finding their own third party home inspector to inspect the home as it is being built.
What are some things you should look for in a home inspector?
To start with, not all home inspectors are created equal. Look for a home inspector that is a member of the American Society of Home Inspectors (ASHI) - http://www.ashi.org. ASHI is the nations oldest and largest home inspection organization. They have strict membership requirements in place and not any ole inspector will be accepted.
Next, make sure the inspector you choose is Code Certified. Many areas of the country have now adopted the International Residential Code (IRC) as the model building code. Check with your local municipality to determine which model code they enforce and adjust your search likewise. You can find a Code Certified IRC Inspector by going to http://www.iccsafe.org.
Ask the inspectors on your narrowed down list for sample inspection reports. You're looking for a home inspector who writes narrative type reports and who will include code numbers or the code itself when he finds them. I'd avoid inspectors who say they use an onsite "checklist" type of report.
Call or meet the inspector. You're looking for someone who is knowledgeable and who can communicate well. If you talk to an inspector and have trouble understanding what he's saying, it's likely his report will be hard to understand as well.
Ask for references. Have the inspector send you several references and follow through checking them out.
Ask questions. Ask your inspector if he/she will come back out and re-inspect after the builder says all the repairs have been made. Some will, some won't. Expect to have to pay for a re-inspection. Ask the inspector if he will communicate with the builder after the inspection if the builder has questions. Good inspectors will take the time to go over the report via phone or in person with the builder to ensure that all needed repairs are made.
As a home buying consumer, it's your responsibility to ensure your home is built correctly. Not the builder, not the State, County or City. Hiring a qualified and reputable home inspector will go a long ways in helping you obtain a problem free home.
Donald Lawson is a Professional Real Estate Inspector who is licensed in Oklahoma (454) and Texas (5824). Donald is also Building and Plumbing Code Certified by the International Code Council. He currently owns and operates V.I.P. Home Inspections, a multi inspector firm in Houston Texas. You can find more info on New Home Construction as well as a free New Home Buyers Guide at his website www.best2inspect.com
Who is responsible for making sure your home is properly built?

Simple Home Safety and Security Steps
November 29, 1013 - Builders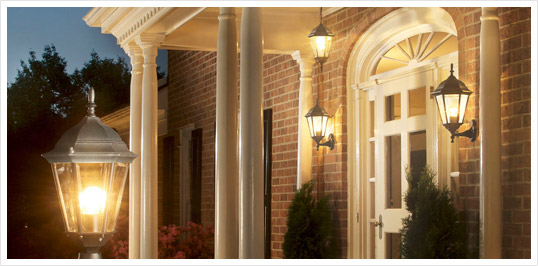 Inexpensive do-it-yourself projects can help to better protect your home
(ARA) - The arrival of winter and daylight saving time means more of us will be getting up - and coming home - in the dark. The short, dark days of cool weather are a smart time to think about home safety and security.

A home break-in occurs every 14.6 seconds, according to the FBI. The good news is that simple, inexpensive do-it-yourself projects can help to better protect your home and loved ones. From improving lighting to installing a wireless home security system, many safety-focused projects are easy and cost effective to accomplish.

To brighten your outlook - and sense of security - during winter's dark days, here are a few safety projects to consider:

Install a home security system

Long gone are the days when you had to rely on a professional security company to install a security system in your home. Now, products like the GE Choice Alert Wireless Home Security System make it simple for homeowners to install a system on their own. The system includes a control center, window/door sensor kit, garage door sensor, indoor/outdoor motion sensor, security sign with yard stake and matching window stickers. Because you monitor the system yourself, there's no monthly fee for a security service, and you can add additional sensors and features as your security needs change overtime.

If you're a bit more DIY-savvy, you could opt for the Schlage LiNK system, available at Lowe's, which allows you to monitor and control door locks, lights and a camera all from a computer or cell phone. The system will send you e-mail updates so you know who is home. You can lock or unlock doors remotely, and monitor the camera from your cell phone to see what's going on inside your house.

If you decide to install a security system, check with your insurance agent or company; the system may qualify you for a discount on your homeowner's insurance.

Light up the darkness

More hours of darkness could mean more opportunities for burglars, and more risk for you or a loved one to suffer an injury in dark areas around your home. If you arrive home after dark every night, use outdoor light timers to turn lights on both inside and outside your home. A screw-in dusk-to-dawn control allows you to convert a traditional light or lamp post into a light that turns on at dusk and off at dawn.

Exterior lights should illuminate all entry points of your home; a dark doorway could be an invitation indoors. Every entrance of your home should be lit with at least one type of security light.

Consider placing motion-activated lights, which only come on when they detect motion, at the side, front and back entries of your home, on a detached garage, storage building, gate or garage door. For a little extra light, make sure you have plenty of light inside your house as well.

With more hours of darkness, you'll need to use more electricity, so consider saving money by replacing incandescent light bulbs with energy-sipping compact fluorescent light bulbs CFLs. Energy Star-rated CFLs use 75 percent less energy and last up to 10 times longer than standard bulbs. Placing CFLs in just five of your home's more commonly used light fixtures could save you up to $70 a year, according to the Environmental Protection Agency.

Safety for all ages

Winter often sees plenty of guests, delivery people and repairmen coming to your home. Consider ways to make your house safer for all ages that enter it.

If you'll be having very young guests, a childproofing kit can help ensure grandchildren, nieces and nephews, or even your own kids, won't be able to open doors, cabinets or drawers that might get them in trouble. Prevent small hands from opening hot oven doors with heat-resistant oven locks. Hide wires and cables with a cord channel so that children won't be tempted to play, and adults won't trip. Consider updating your electrical outlets with tamper-resistant ones that help keep out foreign objects by requiring equal pressure on each side of the electrical cord in order to operate.

Don't overlook the role good health plays in security. Consider improving your indoor air quality with a purifier in guest rooms. Add grab bars in bathrooms, and make sure your home's smoke alarms and carbon monoxide detectors are all in good working order; replace them if they're not.

With a few simple home improvements, you can save money, feel more secure and brighten the dark days of winter for your whole family.

The short, dark days of cool weather are a smart time to think about home safety and security